Blaming yourself for not learning how to make love to your husband like in the case of Rivers below? "I blame my mother for my poor sex life. All she told me was 'the man goes on top and the woman underneath.' For three years my husband and I slept in bunk beds."  Joan Rivers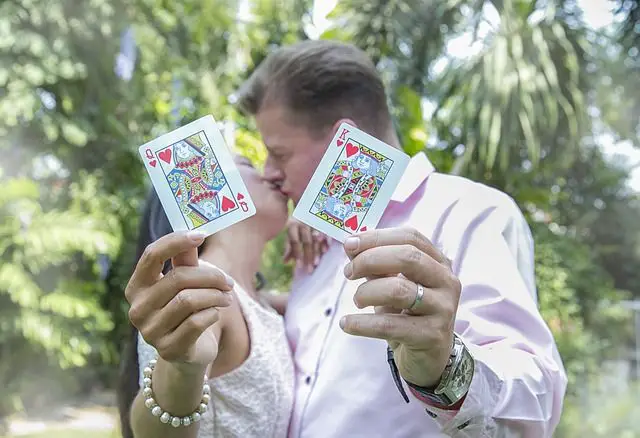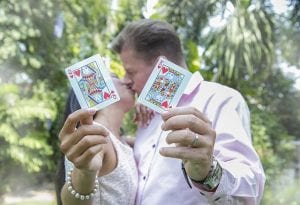 Courting and dating for a few months or years, you finally decided to marry him. It is now your honeymoon night, Congrats!
Much Anxiety on You!
What Could Possibly Be Your Main Center Of Anxiety and Panic?
Perhaps you're worried why are you this panicked or anxious about having sex for the first time. It's normal for you to feel this way on your wedding night. This will be the first time that you will be intimate sexually.
Andrew S., in "The Art of Better Lovemaking "explains the anxiety in women during first sex and suggests taking a breath and relaxation as a solution. You probably landed on this page because you believe sex is painful or boring and need information and guide to follow.
Don't freak out! Here are simple tips to help you out!
Related Articles on How to Make Love to Your Husband
For those couples who have agreed to wait until the wedding night, the anxiety tends to be very high. In the same vein, a virgin on her first sex day will be so expectant and anxious. Only calm and being at ease with yourself can help you overcome the anxiety.
So, start by taking it slowly with yourself, your husband and with every anxiety you might be having. There will be too many thoughts on your mind that day than you can cope with. Don't pressure the night if you're tired and reluctant owing to the anxiety and stress involved. Think of how to get over the anxiety instead of rushing into it.
There are numerous simple tips to ease the situation but the stress may not allow. Interestingly, taking a shower and wearing best lingerie is just your best shot according to Ransom-Alfred. And that is if you're having considering the possibility of making love to him.
Get the best lingerie ideas and start experiment with them. Overall, and under no circumstance should you put pressure on yourself to do things that will hurt you.  Remember, it's just a night. You'll still have several other nights to make love to him.
Master the skills to Build A Stronger Relationship

Get Some Lubricant
"Wetter is better for men as well as women" ― Palo Alto, California.
Yes, you heard that right. Try to pack some lubricants before sex to get your vagina lubricated. But I thought lubes are for older people who can't get wet easily and naturally again. Far from it! Although some people believe lube is for the older folks but that is not CORRECT!  It's for everyone struggling with getting wet easily or undergoing stress. In that case, using lube will be the only way to help them get some slickness in the vagina.
Lube smoothens the vagina and makes first-time sex pleasurable and painless. Sex therapists like Marty Klein, Ph.D., recommend using it always.  On top of that, it may not be wise to only use it during first sex but advisable during subsequent sex.
Eventually, you should settle for the best lube that is most effective and good to use. There can be difficulty in knowing the right lube to go for. However, you shouldn't have any problem if you pick water-based or Silicone lube. These are the two effective types of lubes out there that I can readily advise you use. Anything apart from these might not be okay (my view though).
For example, oil-based lubes are ineffective owing to penetration during usage with latex condoms. But getting water-based or silicone-based lube will do just better for you instead.  Just think of the best and effectiveness lube to make love to your partner.
Start With Foreplay

"Foreplay helps to maintain intimacy. Physical intimacy but also emotional intimacy," says urologist and sexual health expert  Dr. Jennifer Berman

.
Foreplay helps you get wet easily and ease penetration for you. Vast numbers of books explain this. Some of such books include Fabulous Foreplay: The Sex Doctor's Guide to Teasing and Pleasing Your Lover by Dr. Pam Spurr and Foreplay – The Real Focus of Great Sex by Othniel J Seiden MD, Jane.
Check these books for foreplay tips to make your first day of making love to your husband pleasurable. The truth is no one can underestimate the importance of foreplay in sex.  Consequently, you should always try to experiment with different foreplay tips helpful in sex, particularly in your first sex.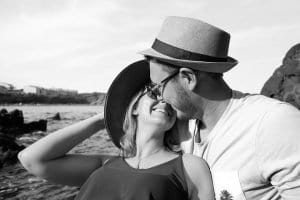 Communicate About Sex Before, During and After
In his book, The Science of Trust, John Gottman, Ph.D. explains the dynamics in everyday couples' life and how it can either build or erode trust.  He reported that 9% of couples who can't comfortably talk about sex with one another find their sex satisfactory.
Consequently, discussing sex with your husband helps in intimacy and connection. Therefore, you should be free to share your sexual weakness and strength with him. Don't wait until that day, start now! This will do more good for you especially if you're just starting to make love to him.
So, let him know things like how you feel about sex, what work for you or not, and much more. As you continue with this, it wouldn't be long before you start to know your husband remote control zones. Don't just wait and expect things to come naturally without some communication. Feel free to come out to him in all aspects of your sexual life.
Show Enthusiasm When Initiating Sex
The best way to initiate sex is with the right frame of mind for sex. Don't ask: wanna to be intimate and have intercourse? That is not enthusiasm.  Add a little bit of enthusiasm to show him you don't hate sex and love him. By being enthusiastic, there will be no usual contention happening between a couple when initiating sex.
Check Venessa Marin tips to help you initiate sex so that your husband will say yes. As you read the tips, try also to implement the strategies thought in them. Doing this will help you to not only know what works and what doesn't but understand your sexual life.
Don't like talking about Blowjob or Handjob when making love to your husband? You don't have to. Leave them for another night as it can help you feel and explore his body. More importantly, letting your hands and your mouth wander around his erogenous zones is exactly what every man needs.
There are several tips recommended by the sex-expert for you to follow. You can get a load of the best Blowjob and hand job tips from different sex-expert and sexologists like Dr. Jane Greer and Dr. Jill McDevitt.
Furthermore, you can use your hand in a creative way during sex by watching movies. Overall, don't beat around the bush. Start by putting your hand or mouth exactly where you know he might want it. That's the best way to make him want to satisfy him.
Choose the Right Position TO Make Love
"Don't start at the far end of the kama sutra!" by Carol Queen, Ph.D.
One mistake you don't want to make the first time of making love to your husband is picking the wrong position. This makes not only your first vaginal intercourse experience painful but also boring for almost your entire sex life.
So, at first, choose "The Girl on Top" position. It will give you full control over penetration and also minimize discomfort during first time sex. Check Kiarra Sylvester's tips on the best gentle sex position for virgins to learn more about how to make your first sex experience a pleasurable and pain-free one.
Also, keep things clean prior to making love to him to avoid things getting messy in case you bleed. Most women bleed when the hymen is broken and if that's you; put a towel underneath before sex. Also, in some women, the bleeding can continue for some few days. Don't freak out about this as it's perfectly normal.  Simply get a panty liner or a pad to keep yourself clean until the bleeding stops.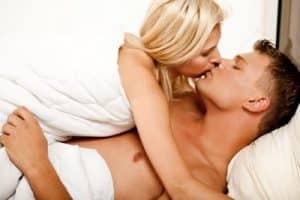 Few Things You Need Know About First Time Sex
BAD OR GOOD, DON'T SCOLD YOURSELF FOR IT.
Don't worry about being bad or good at sex because it's not a skillset or something to measure objectively. Rather than blaming yourself or your partner for not being good at sex you should sit together and share views.
Help him build that mindset of "I Can Do Better". Because nothing is unchangeable and you can improve your sex experience or performance in a matter of time provided you're determined to. It all starts with practicing it and you'll soon become a Pro in it.
SEX IS HEALTHY AND NORMAL FOR YOUR BODY.
Are you finding the mention of sex disgusting? Stop thinking it's an unhealthy or horrible thing. Your body is created for it except that you don't have to abuse it. It's possible your partner is more passionate about it than you do, don't get angry at him for that.
That's the difference you should both learn to cope with. Rather than telling him "go to hell" when he asks for it too often, gently explain to him. Even at that, it doesn't make you normal or abnormal for not sharing the same sex urge as he. Bottom line is, sex is vital in connecting with him and in boosting the love.
SEX IS ABOUT INTIMACY.
In a relationship, intimacy means being personal, private or belonging together. One of the ways to get familiar and close with each other in marriage is through sex. It helps you to get familiar, private or intimate with one another. How then do you achieve intimacy in sex? By exploring each other's bodies, trying different sex styles and positions you can maximize the pleasure in sex.
Doing this sincerely and holistically, you can get his attention under your control. However, there should be no acting or pretense when doing this. Because intimacy also entails being open and sincere with one another. You should be able to become personal and share your feelings with each other without any reservation of any sort. That's what intimacy is all about in marriage.
DON'T ALLOW SEX TO CHANGE YOUR IDENTITY.
People give different tags to women on the basis of their sex drive. You should never allow this castigation to affect your personality. Being active or not, bad or good at sex isn't something that can be measured objectively. It's neither a skill set nor what determines who you're as a woman. You may be weak in sex and even wish you're acting like him but find that hard to achieve.  But I can assure you there is the possibility of improving if only you can practice. However, you may not expect to see change overnight. Start little by little and be free to discuss the improvement with your husband.
Rounding Off
YES, IT MIGHT BE AWKWARD THAT FIRST TIME.
It might even hurt but you don't have to put the blame on yourself! With time and continuous practice as well as learning each other's bodies it will get better. But if any sexual issue is still insurmountable then try and consult a sex therapist for a professional advice.
Overall, experiment with the tips above (if not all) and stick to what works best for you.
Keep the tips very handy and reference it from time to time because you'll always need it until you've practiced and mastered the tips touched here to make love to your husband on your wedding night and every other night.
Do you have any tips you think we're missing? We will like you to share your experience with us in the comment box below.
Cheers!!!
David Small
is the founder and editor of relationshiptips4u. He is a dating, marriage & relationship coach, speaker, and author. Learn more about him here and connect with him on Twitter, Facebook, and LinkedIn.
Master the skills to Build A Stronger Relationship