Sex is integral for adding some spice to your love relationship and great sex is adding these spices in the perfect way. Relationship experts believe that a good sex life can bring two people closer in a special way.
It can boost your love life to a great extent thereby making life more fun. Accept it or not, we all have at some point or the other have searched for ways to rediscover that long lost bond with your partner and to have more fun in the bed.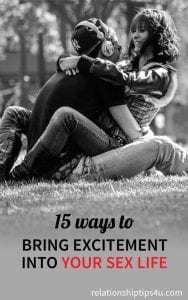 Gina Ogden, sex therapist practicing in Cambridge, and author of the book 'The Return of Desire' says "Between iPhones, kids, and worrying about money, for many women, sex has become just one more thing to stress about or squeeze in." Thus, one needs to make appropriate efforts to turn your sex life into an exciting affair.
So, how about adopting certain reliable practices to improve your sex life? Here are 15 verified ways to perk up your bedroom romance.
Talk To Your Loved One
Talking and spending some quality time with your partner can do wonders. Find some 10-15 minutes to talk about your sexual fantasies and what exactly you expect from one another. Try to build up each other's excitement with a pep talk before the final act. Go for a walk and whisper small secrets in each other's ears.
Create that romantic aura and feel its fragrance. Words can do wonders when everything else fails. Talking also makes you get closer to your partner emotionally. Mary Jo Rapini, a sex and relationship psychotherapist residing in Houston mentions "A daily check-in is one of the best ways to instantly feel more connected."
Wear Red
This advice caters to ladies. A study conducted by a psychologist from the University of Rochester mentioned that men admired women wearing crimson color. The red color attracted the male members to a great extent. However, this did not change their perception of judging the women as per their intelligence, competence, and personality. Well, this does not mean that the magic of red color ends here.
The red color is termed the color of romance and the color has maintained this reputation for long. A report included in the Journal of Personality and Social Psychology revealed, "Men also were more likely to say they wanted to have sex with a woman and that they would be willing to spend more on a date if she were in red." So, ladies gear up and iron that short red dress in your wardrobe and woo your dream lover.
Master the skills to Build A Stronger Relationship
Choose your sexy goal
Choose your positive goals which can help you with taking your sex drive on an optimistic note. This can also lend a helping hand in taking your sex life to a new level. Studies have revealed that this practice also reduces the fight between the couples. So, why not have a goal and strive to achieve it in the best possible manner.
Find the courage to ask your partner whatever you always wanted to ask for your entire life. Fulfill all your fantasies and enjoy your romantic life with all the fragrances. Motives for having a fulfilling sex session give you inspiration enough to try even something new.
Practice downward facing dog yoga posture
Yoga postures have been effective in giving us solutions to various health issues, sex life also being one. An Indian study has proven the fact that practicing yoga daily for an hour can lead to prolonged orgasm in men.
The study also showed that men could triple the time they lasted in the sex act due to yoga. The studies have also stated that yoga exercises, especially the stretching and downward facing posture led to the improvement of core strength as well as pelvic muscle control which can prolong the time.
Don't Text Unnecessary Things
Texting something which is unnecessary can lead to more trouble than doing good. Always text to express only good things like love messages. Do not text to apologize, to discuss negative things, to confront each other, and to hurt each other.
Try to spread only love through your messages and see the difference. Sweet notes have always worked as the messenger of love, do not misuse them. Make use of them appropriately and try to infuse charm into your passionate time together.
Display Things Acquired Together
Try to display all the things you have acquired together in the room where you entertain the guests. Loving exhibition of the things which you bought together or won together in any competition gives portrays your love. Tell your guests how much you love each other and use the opportunity effectively.
Note down features you love about your body
As per a recent study of Texas, the women having higher body esteem possess higher sexual desires. Thus, it is always desirable that you should focus on your physical traits to feel beautiful. Psychologists believe that many women feeling embarrassed about their bodies did not want to have sex.
However, men are not bothered by these factors much. So, chill and relax your body. Everyone has imperfections and this should not prevent you from enjoying your sexual pleasures. Make a list of all the good things about your body which will make you feel proud of your body. Better to display it in front of you and have repeated looks at it.
Related Articles
Try To Linger in the bed
Do not jump from the bed when the alarm clock rings. Try to cuddle with your partner and get lost in each other's eyes. Ogden says "It's an easy way to connect and acknowledge each other before the start of a busy day." This will bring an excitement not only in your sex life but also in your routine. So, stay longer in the bed and give a positive change to your love life.
Give a goodbye kiss
You may be having a routine of giving a peck to each other but that is not enough. Try to go a step further and have a long goodbye kiss. A passionate loving kiss will give a chance to renew that long-lost spark in your love life.
In fact, psychologists say that these long kisses enable you to build up small intimate moments in your day. A long affectionate kiss in the morning leads to waiting for more in the evening.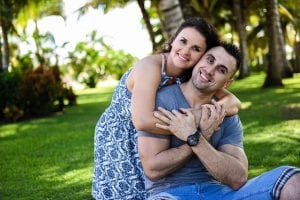 Wear something sexy to bed
Make your bedroom moments lively by wearing something sexy to bed.  Arouse your partner's sexual desires by wearing something hot when sharing the bed with your loved one. However, if you do not want to wear a sexy outfit, do not wear something rusty like an old t-shirt. Do not take your partner for granted and try to create an enticing atmosphere in your bedroom. Remember, a good start always turns out to be good for fulfilling your sexual fantasies.
Indulge in morning sex
Experts believe that morning sex leads to a good start of your day. Do not make any excuses and indulge in sex first thing in the morning. Eva Cwynar, an endocrinologist and deputy clinical professor of medicine mentioned "Biochemically speaking, it makes sense to have sex first thing in the morning," Cortisol is at its peak when you first wake up, so you have the energy to do it.
Then afterward you release other hormones, like oxytocin, so you're in a good mood all day." Moreover, you need not wake up two hours early to complete the ritual.  Research has shown that many couples are able to enjoy satisfying sex in just 7 to 10 minutes.
Maintain your eye contact
As per a study by Harvard psychologist Zick Rubin, couples who are in love with each other should maintain an eye contact. Thus, it is always advisable to look into each other's eyes. Though you may feel the temptation to look away, you should not do so.
It also helps in giving a sense of respect and love for your partner. Moreover, your partner feels important and does not feel isolated which adds to the feeling of being wanted in the relationship thereby giving an edge to your affectionate angle in life.
Heat up your Sex Talk
Speak about your sexual wishes during your night talks. Michael Krychman, Executive Director at the Southern California Center for Sexual Health and Survivorship Medicine says, "Very often, low libido is just related to boredom with your partner or what you are actually doing—sex has become a routine script that can be played out without much thought or emotion." You need to talk about your sexual script so that you do not repeat the same things over and over again. Talking also lets you get rid of your inhibitions.
Exercise Your Way To A Good Sex Life
It is always said that individuals who exercise are able to have a better sex life than couch potatoes. Studies have shown that women who are physically active are able to enjoy your sex life much better than those who do not exercise. Kingsberg says, "The better your health, the better your sexuality, exercise relieves stress, increases energy, and puts you in touch with your body.
Plus, if you're in better shape and feel great, you'll want to share that with someone else." Thus, you should always aim at exercising for at least 20 to 30 minutes a day.
Try to Have a no-sex touching session
Normally, couples are more concerned about achieving orgasm. However, try to go for a fun-filled sex session without worrying about the climax. Have some sensual time together and feel each other's bodies. Massage, rubbing, and even applying oil on each other may arouse good feelings for each other. Try to feel connected to each other through different touches. Move your fingers up and down his body and get a treat for yourself.
Sexual pleasures are something which is not difficult to attain. One just needs to make some efforts. However, these efforts should be healthy and should not feel like a burden. Try to infuse some fun while going for a jump start. Seriousness holds no place in a romantic relationship. Moreover, stop thinking too much about making your sex life pleasurable.
In addition, sweet surprises always work well for a relationship. Tiny toys, chocolates, roses, these are some additions which can add a hint of freshness to any bond. Make this bond all the more strong by leaving little surprise notes in the places where your partner is more likely to find them.
Apologize easily without making it an ego issue. It is always advisable to accept responsibility whenever there is an argument. However, this does not mean that you should apologize at the drop of a hat. Neither should you apologize too often nor should you apologize too less. This will only make your relationship worse.
Finally
Go that extra mile to build up ecstasy in your love bond. Try something out of the box, which is not your usual routine. Everyone wants to move out of monotony when it comes to sexual fantasies. So, try something together which make you more satisfied with your relationship and achieve your goals together. Self-expansion is integral to building your relationship. When you invest more time in your relationship, it helps in making your sex life all the more exciting. This also gives you enough opportunities to let you both grow sexually as well.
David Small
is the founder and editor of relationshiptips4u. He is a dating, marriage & relationship coach, speaker, and author. Learn more about him here and connect with him on Twitter, Facebook, and LinkedIn.
Master the skills to Build A Stronger Relationship