Are you looking for proven SEX TECHNIQUES that you can use to turn your man on and get him 'in the mood' for sex then you have come to the right place? Sex is an incredibly powerful experience.
In fact, Mel West describes it as "an emotion in motion". I totally agree. You know, we all have an idea in our heads about how great we want our life under the sheets to be.
To some, intense. To others, slow and steady. And to the wild ones, as crazy and rough as it can get.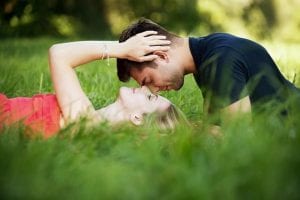 However, while there is NO specific way to have good sex, there are certain sex techniques that have been proven to spice things up and make you satisfy your partner all the time.
Enough of feeling depressed after each round of what should be one of the most enjoyable experiences of your life.
This article will show you 15 sex techniques that will improve your lovemaking.
These sex techniques are not set in stone; you can try them once a while, one at a time, and see the magic it'd bring to your sex life. Now let's get to it.
Related Articles
Sex Techniques #1: Be Confident
I know you want to say "what has confidence got to do with sex?" I know, right? But the truth is, there is nothing as sexy as being in control. Ever wondered why 50 Shades of Grey is a hit movie? Because it shows the control that sexual partners desperately crave for.
No need to chicken out because of the thought of not being able to satisfy your partner. Go with the mindset that both of you are going to have good fun at the end of the day. This bedroom confidence will make you both enjoy each other more.
Sex Techniques #2: Talk to Your Partner About How You Want It
Yes! You want it slow, fast, rough? Let him know. You see, the act of lovemaking is a very consummated experience already, but when you can communicate exactly how you want it to your partner, while at it, you will see that you get exactly the kind of satisfaction you want.
No need to feel shy about it; you being naked together is 'shy enough' to stop you from getting the ultimate pleasure you both deserve.
So go ahead, talk to your partner about it. There is no point assuming he should know what to do. Assumptions won't get your partner more sexually active to please you the way you want it, voicing out will.
Master the skills to Build A Stronger Relationship

Sex Techniques #3: Don't Ignore the Place of Foreplay
Foreplay is (and should always be) the start of every great sexual experience. Here's the catch – when you both have had so much foreplay, you are fully in the mood for the most intense and enjoyable moment of your lives.
In his book, Master of Stupidity, Toba Beta wrote, "sex without foreplay is like song's reff without intro". He was right.
You can both prolong the foreplay by wearing clothes so you don't get it too early, or even going to the park and having fun. This builds the emotions so much so that as soon as you get home, there is absolutely nothing stopping you from enjoying yourselves.
Don't know how to go about it? Riley Edgewood describes what foreplay is to her in her book, Truth & Temptation, "He bathes me with his mouth, not missing an inch of skin.
Hands to shoulders, feet to knees to hips, breasts to belly… until I'm fully baptized in the church of Alec." 
Sex Techniques #4: Try a Strip-tease
This is one of the best sex techniques that can get you to enjoy each other more. And NO, it doesn't have to look professional like what you see in the movies or night clubs, it just has to be seductive enough to make him want you more.
All it takes is to be able to move slowly and seductively while removing your clothes.
You can start by slipping into something sexy, of course, in an outfit that would allow you to have more to peel off. You can be barefoot with one of his button-downs, giving you the luxury of undoing those buttons one at a time. This is as alluring as it can get.
And guess what? He'd want to grab you right away, but don't let him just yet, until you can see and feel he's had it! This will turn him on the more and increase the passion with which he handles you during lovemaking.
Sex Techniques #5: Play the Right Music
Sometimes, all it takes for you to get in the mood is the right music. And having the right music playing in the background can improve your bedroom experience in ways you never thought possible.
Truth is, music has a spirit to it. It influences your mind and puts you in a certain mood. In this case, in an erotic fantasy that lets you enjoy your partner more.
Victor Hugo captured that right about music when he said, "Music expresses that which cannot be put into words and that which cannot remain silent". How better can it be said about lovemaking? Let those emotions out as you listen to music while having sex.
Oh… If you are wondering about the right kind of songs to play, you can pick up your best blues collection. I personally recommend Toni Braxton or Celine Dion's songs.
Sex Techniques #6: Let the Lights Go Off
You know, there is something about being passionate about someone without seeing their face. In fact, you can even go a step further by blindfolding each other.
Do you know why this is important? If you take your sense of sight out of the picture, you will be forced to maximize your other senses. Perfect for being creative, right? I know.
How more to get creative than to use your other senses, especially of touch. Trust me, if you master this, you are in for the best times of your lives beneath the sheets.
However, note that this particular sex technique does not go well with everyone. So make sure to check in with your partner and make them feel comfortable to try it once a while if they are not already into it.
There I said it! I know a lot of people shy away from noises during sex, but what better way to stay connected and aware of how much you both are enjoying the experience? An anonymous quote read, "What is sex if I cannot hear how you feel?"
Moaning makes him feel more excited and do you more. For the ladies, it tells her you are enjoying it as well, turning her on the more. Now get your feelings out and make your partner hear that you are actually enjoying the bedroom experience.
Sex Techniques #8: Talk Dirty to Each Other
You both are adults and you understand the place of decency when it comes to words. However, in the bedroom, throw that moral away.
Talking dirty paints an image of what you want in your partner's head, making it easier for them to give it to you just how you want it.
Zara Barrie was right when she said, "Conversation is the sexiest foreplay, the perfect prelude to sex, the fiery banter that gets you heated, the stimulation of the mind that transmits to the body.
The conversation is a give and take. Just like sex itself. And the best give and takes — the best conversations — lead to the best sex." 
Tell him what you want to do to him. Tell her what you want to do to her. And you know what? Stay away from touching while talking dirty.
This increases the emotions so when you finally get to touch, it is like an electromagnetic force that binds you together into passionate and enjoyable sex.
Sex Techniques #9: Keep a String and Passionate Gaze
The eyes have it, right? Absolutely! Eye contact is a strong point of connection during sex. While some people prefer to keep their eyes closed and just enjoy the experience, try keeping them open while you passionately stare at your partner during lovemaking.
In explaining the science behind eye contact, Psychologia. co states that "when you look someone directly in the eyes, his/her body produces a chemical called phenylethylamine that makes the person feel 'in love'."
What better way to communicate to your partner that you are really into them.
It was William Shakespeare who coined the phrase, "the eyes are the windows to the soul". He was right. Get into each other's souls by maintenance a constant gaze while getting through orgasm. This can be the most passionate and intimate experience you will ever have.
Sex Techniques #10: Undress Each Other
If you have not learned this before now, this is the time to start it.
Take each other's clothes off in a very sexy and slow way. You can add some spices by grabbing her from behind as a man while breathing your warm breath on her neck. There is something about that warm breath on the neck of a woman. Oh… if all men knew!
You both can get ready for this by wearing sexy looking underwear that looks and feels sensuous to the touch. This builds the passion before the main sex experience.
Sex Techniques #11: Try Massage
Ever admired how they're able to make your partner feel so good at the massage parlor? Well, why not be the one to make them feel that way. All it takes is a little investment in some oils and candles, and of course, a few minutes online.
If you are thinking you don't know how-to, it doesn't hurt to watch some YouTube videos, does it? You can start by allowing your partner to lie on their front, then allow your hands and fingers to do the walking on their body. With this position, you both can massage each other simultaneously.
Trust me, if you have never tried any other sex technique, try this one; it will greatly improve your lovemaking experience.
Sex Techniques #12: Try a New Place
Sex can get boring when it's done in a particular place for a long time. Are you both used to only bedroom sex? Why not try the living room, bathroom, or even the kitchen? Oh, you don't know?
Well, now you do. There is something sexy about unusual places; it creates a perfect scene to try new things and get more creative with your partner.
Sex Techniques #13: Kiss More and Longer
The lips are a very sensitive part of the body and locking lips is one of the most sensitive sexual activities you can engage in with your partner.
Kissing also builds intimacy between you and allows for more fun during sex. Kissing for a long time is even more fascinating as it has several amazing effects on your lovemaking experience.
I love how Edmond Rostand puts it in his book, Cyrano de Bergerac, "A kiss is a secret which takes the lips of the ear."
Sex Techniques #14: Try New and Different Positions
It is quite understandable to get used to a particular sex position. But it becomes really boring if that would be the only position you stick with when it comes to bedroom action.
Spice things up a little bit by trying out new positions and see a big difference that could make. Be it the age-old missionary or doggy or the less emphasized '69' (during oral sex), whatever works for you, do it.
Sex Techniques #15: Turn Off the TV
It's time to get under the sheets baby. Not time to see what the Kardashian family is up to or what gossip Wendy Williams has up her sleeves. Trust me, that is a passion killer. So go ahead and hit the off button and focus more on each other, because in the end, that is all that matters.
There you have it! If your lovemaking has turned cold, try any of the above – one at a time – and feel the spark it would bring to both you and your partner.
I would like to close with this powerful quote from the book, The Cat Who Walks Through Walls, by Robert A. Heinlein. He said, "Sex, whatever else it is, is an athletic skill. The more you practice, the more you can, the more you want to, the more you enjoy it, the less it tires you."
David Small
is the founder and editor of relationshiptips4u. He is a dating, marriage & relationship coach, speaker, and author. Learn more about him here and connect with him on Twitter, Facebook, and LinkedIn.
Master the skills to Build A Stronger Relationship