According to Barbara De Angelis, the act of marriage takes place in the heart, not in the church. In the final analysis, it is a choice you make, not just on the wedding day but over and over again. The way you treat your husband and wife will be the reflection of the choices you make.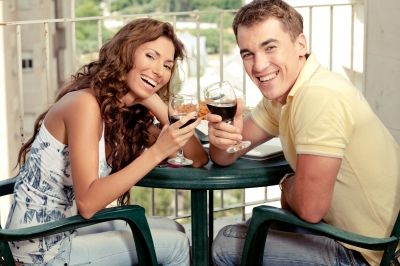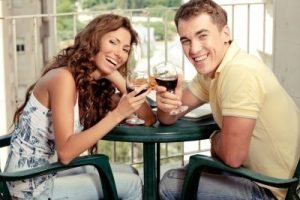 Here are a few books to help you maintain the focus on the original choice to love and to cherish your spouse.
Related Articles
15 Ways To Avoid Boredom In your Marriage
17 Ways To Prevent Burnout In Your Marriage
50 Reasons Why Marriages Fail In The First Year
30 Proven Ways To Discover Your Love Language
12 Ways You Are Unknowingly Destroying Your Marriage
1. The 5 Love Languages: The Secret to Love That Lasts. Dr. Gary Chapman
Dr. Gary Chapman believes that the root cause of unhappiness in marriage is that we speak different love languages. It took him the experience of a marriage counselor for 15 years for him to be able to identify what he calls the 5 love languages. These are quality time, acts of service, receiving gifts, words of affirmation and physical touch. Chapman explains each of these love languages in a friendly and humorous style. While some husbands and wives crave focused attention, others need regular praise.
To others, regular gifts are highly important while another considers fixing a leaky sink, cooking a meal or ironing a shirt as the thing they need to fill their love void. For some partners, the physical touch which may involve holding hands, giving back rubs, or sexual contact is their way of experiencing love. These love languages are illustrated with real-life examples from counseling practice.
2. The Seven Principles for Making Marriage Work: A Practical Guide from the Country's Foremost Relationship Expert. Dr. John Gottman

In this title that has sold a million copies worldwide, Dr. John Gottman has revolutionized the way people
understand, repair and strengthen marriages. He studied couples over the years and observed the habits that can make or break a marriage. This book is the culmination of years of work. In it, Dr. Gottman provides seven principles to guide couples towards harmonious and long-lasting relationships.
Here are straightforward yet profound principles that teach partners new approaches to resolve conflicts, creating common ground, and achieving higher levels of intimacy. This book offers strategies and resources to help couples to collaborate more effectively in the resolution of problems and dealing with issues related to sex, money, religion, work, family, or anything else.
Master the skills to Build A Stronger Relationship
3. One More Try: What to Do When Your Marriage Is Falling Apart. Dr. Gary Chapman.

The premise of this book is that there is still hope, no matter how grim the situation in your marriage looks. The doors may have slammed and the birds fly. Things might not be working as well as you would have hoped. Your spouse
may have destroyed the little trust you had in them. It doesn't matter how grim the situation is, there is still hope.
Your marriage may be near breaking point or you might already be separated, Gary Chapman will show you how to give your marriage one more try.As such you don't have to end up divorced. With this book, you will know how to take the next step when blindsided in marriage, discover healthy ways to manage anger and frustration, effectively deal with loneliness, renew hope and trust in your spouse, and rebuild your marriage from the foundation up.
4. The Love Dare. Alex Kendrick
It is easier to promise unconditional love at weddings but when it comes to practicing it, well it's hard. Soon
after marriage, romantic hopes are often replaced with disappointment in the home. But does it have to stay that way?
Here is a New York Times No. 1 best-seller, with five million copies already sold, that offers a 40-day challenge for husbands and wives to practice unconditional love. It matters not if your marriage is hanging by a thread or is healthy and strong, The Love Dare is a journey you need to take. Learn the keys to finding true intimacy and having a dynamic marriage.
5.Marriage Meetings for Lasting Love: Marcia Naomi Berger

Marcia Naomi Berger is a psychotherapist and clinical social worker who believes that couples can make love last if they learn how. She prescribes that couples have uninterrupted 30-minute (or even shorter) meetings each week and
follow an agenda that includes appreciation and planning for fun to foster intimacy and make way for collaborative conflict resolution.
From this book, you will learn how to communicate effectively and connect with your partner. It provides you with step-by-step guidelines that walk you through four parts of a marriage meeting. These are, expressing appreciation, coordinating chores, planning for good times, and problem resolution.
6. The Meaning of Marriage: Facing the Complexities of Commitment with the Wisdom of God. Timothy Keller.
No matter your background, here is a book that shows you what marriages should be according to the Bible. TimothyKeller seeks to debunk some of the myths that modern culture holds about marriage: everyone has a soul mate.
Romance is the most important part of a successful marriage; your spouse will help you realize your potential; marriage is for now, not forever; and after divorce, the only solution is starting over.
Marriage is shown as a glorious relationship that is often misunderstood. Read it to know how to have a successful marriage and the place of God in it.
7. Love & Respect: The Love She Most Desires; The Respect He Desperately Needs. Emmerson Eggerichs.

Husbands beware! Your wife has only one need – to feel loved. Meet her need for love and you will have a happy
wife. As for wives, know that your husband only needs to be respected.
Respect him and he'll be happy. Fail to meet any of these needs and things will get crazy.This book reveals why spouses react negatively to each other, and how they can deal with conflicts quickly, easily and in a Biblical way.
8. 47 Little Love Boosters for a Happy Marriage: Connect and Instantly Deepen Your Bond No Matter How Busy You Are. Marko Petkovic.

Read this book and get 47 Little Love Boosters for a Happy Marriage that don't require your spouse's cooperation, take very little of your time, are doable at home, and are free. And there is no useless jargon here. You get straight-to-the-point advice that has been proven by the author and his wife. Marko.
Petkovic provides action items that you and your spouse can take up to close the distance between the two of you. Ro read and apply the five love rituals in the book and see the difference in your relationship.
9. Communication in Marriage: How to Communicate with Your Spouse Without Fighting. Marcus Kusi and Ashley Kusi
 Here is a book that teaches you how to communicate in your marriage. If you are having problems, you should know that many couples also engage in yelling, shouting, frustration, anger, and resentment. It doesn't matter the communication problems you are struggling with.
You can learn to effectively communicate with your spouse without fighting or yelling at each other. In this book, you will get proven communication skills that will enable you as a couple. For instance, you will be taught that men and women communicate differently and that there can be no communication where trust is lacking.
10. Healing Your Marriage When Trust Is Broken: Finding Forgiveness and Restoration. Cindy Beall and Craig Groeschel.
Here is a book right from Cindy Beall's experience with a cheating and pornography addicted husband pastor. Out of her pain and the knowledge that God has the power to resurrect something new out of the debris of betrayal, Cindy advises that one seeks guidance, counseling, and prayer support in the face of deception.
Learn how to rebuild trust after porn, sex and other addictions that undermine relationships. As you protect your marriage from lies and unfaithfulness, you will know how it is to rely on God to pursue forgiveness and offer your promises anew.
Read this story that could help wives and husbands trust God with their broken hearts and follow his redemption and leading hope.
11. Things I Wish I'd Known Before We Got Married. Gary D. Chapman.

Here is another of Gary Chapman's gems. He believes that divorce is a result of the lack of preparation for marriage and the failure to learn the skills of working together as intimate teammates.
With this practical book that's packed with wisdom and tips, you can develop the loving, supportive, and mutually beneficial marriage you have been longing for. You won't just read this book, you will experience it.
Read the heartfelt discussions of dating and engaged couples as you answer insightful questions based on suggestions at the end of each chapter.
12. 131 Creative Conversations For Couples: Christ-honoring questions to deepen your relationship, grow your friendship, and ignite romance. Jed Jurchenko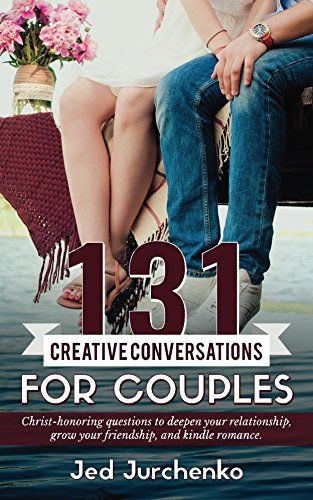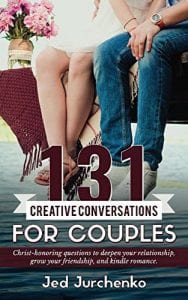 Are you looking to get creative and fun ways to engage in conversations with your spouse? Well, read this book with funny questions that are designed to liven up the mood, inspire and help your partner dream about the future you want to have. Also, you get spiritual questions that help you grow your faith together.
The book is designed to help you peer into the heart of your partner, and share your inner world. You need these questions whether you are newly dating or married for a long time.
13. Witness to Love: How to Help the Next Generation Build Marriages That Survive and Thrive. Mary Rose Verret and Ryan Verret.
In this book, Mary Rose Verret and Ryan Verret acknowledge that every marriage, and even the process of preparing for a marriage, has its own ups and downs. Extraordinary marriages are a result of a process that flows from grace, faithfulness, and the fruitful covenant of love.
This book offers the married and the soon-to-be-married, a program for profound and transformative discipleship. You get the tools and encouragement to share the grace, struggles, joys, and blessings of your marriage with your and desperate couples who need mentors. Get challenged to share your lives, your hearts, your love, and make disciples in the process.
14. How Do I Love Thee: Food For Thought Before You Say, "I DO". Deborah K Ogans
There are many questions you need to ask yourself before you enter that marriage union. How compatible are you? Are you ready for intimacy or commitment? How will you handle the marriage bed? What about your in-laws? Deborah K Ogans reminds you to spend more time planning for your marriage, not just the wedding.
Here is a mini-premarital guide to be used by couples, counselors, and the clergy that covers many of the major subjects couples should discuss before marriage. Get interactive lessons and assignments for the couple that is designed to motivate serious thought about love, commitment, finances, compatibility, accountability, responsibility, and dealing with the in-laws and the marriage bed.
15. Sacred Marriage: What if God Designed Marriage to Make Us Holy More Than Make Us Happy? Gary L. Thomas

According to Gary L. Thomas, a happy marriage might be good, but a holy one is better. Marriage is more than a sacred covenant with your partner; it is a spiritual undertaking designed to help you know God better, trust Him fully, and love Him deeply. It employs insights from scripture, church history, time-tested Christian wisdom, and examples from contemporary marriages.
Sacred Marriage shows you how marriage trains you to love God and others well. It also shows you how marriage exposes sin and makes you more aware of the presence of God. In this book, we are told that good marriages foster good prayer just us sex in marriage is an act of spirituality.
Read this book and get exposed to God's overarching purpose for couples in marriages. The two authors delve into Scripture to understand what it means to have a soul-satisfying relationship.
16. You and Me Forever: Marriage in Light of Eternity. Francis Chan and Lisa Chan
Marriage may not be forever, but it sure makes a bigger part of how your life was spent. It can either lead to eternal regrets of rewards depending on how you approached it. This book, by Francis Chan and his wife Lisa, is meant to show you how to have a great marriage.
Read this book and the way you see your relationship will radically change. The book reminds you that the way to have a great marriage is by not focusing on the marriage. Whether you are married or not, read this book and discover the adventure you were created for and learn how to thrive in it.
17. The Mingling of Souls: God's Design for Love, Marriage, Sex, and Redemption. Matt Chandler

If you have read the Bible's Songs of Solomon, you might have peered into candid and timeless insights on romance, dating, marriages, and sex. In this book, Matt Chandler navigates these issues for both singles and married couples. In it, he reveals Solomon's own process – attraction, courtship, and marriage.
Read this book and experience the emotional rises and falls that come with every word, touch, kiss, and glance from the Songs of Solomon. For sure, your view and approach to love will forever change.
Well, with these books, you can be sure to sting the threads, hundreds of tiny threads that will sew the two of you together through the years.
David Small
is the founder and editor of relationshiptips4u. He is a dating, marriage & relationship coach, speaker, and author. Learn more about him here and connect with him on Twitter, Facebook, and LinkedIn.
Master the skills to Build A Stronger Relationship