Long distance relationship is supposed by a large number of people to not work out. Families and friends are always after you advising not to get involved in such relationships too seriously because of the massive chances of getting the heart- broken at the end. The extra distance can make the things very difficult to manage. Not only it can get really hard to convey your feelings to your loved one but also the fact you cannot meet them quite often can make it tough for you to get over.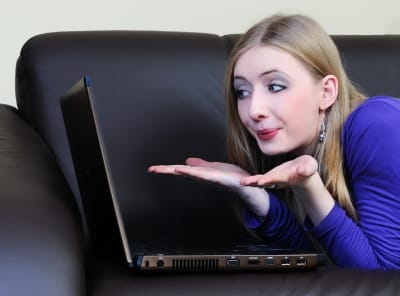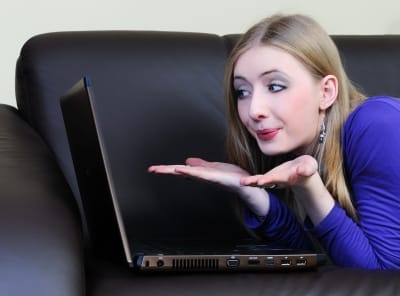 You may also miss little things like hugging each other and kissing the foreheads. All this can make you cry and the pain of staying apart can be very hurting. However, you can make your relationship work by using small tips and gestures that can really help you continue your relationship for long. Here we will discuss 30 such tips.
Small Text Messages:

Text messages may seem small but they are very powerful. You can text each other to remind that there is someone who loves you like crazy. Some messages like "I miss you" or "I love you" can do the trick for you and you can feel the love in the air even when you far from each other. You can also send heart symbols to show your love for your partner or send love quotes and other emoticons that can make your presence felt in your partner's life.

Avoid Long Conversations:


Many people think that talking for too long can compensate for the long distance however, it can cause distances between your feelings. You really don't have to communicate for the whole day because both of you can get tired of each other. Follow the rule – "Less is more". Remember, you are not avoiding your loved one but just seeking the right moments to talk.

Give Some Space:

Even if you are in a relationship with someone, you should not show over possessiveness. A long distance relationship is a sensitive matter. You should give space to each other. Do not expect your partner to respond to your text messages, calls or emails. Respect each other's privacy and try not to get too involved in the matters of the other person. As the saying of Helen Keller goes, "The best and most beautiful things in the world cannot be seen or even touched. They must be felt with the heart". This is what you should do i.e. feel the love.

Test Your Love:

If you think you really love someone living miles away from you, try to find out if it is really love. In a long distance relationship, you should not show signs of concern at early stages. Let the love grow for some time. If it remains the same and the feeling enhances, you will know that it is actually loved and if it is not you can move ahead. Most of these relations fail because people do not know if they are actually in love. If you are sure about it, you should stick to it otherwise, there is no science carrying these relations forward.

Communicate Regularly:

It is important to communicate and greet regularly. You can send good morning and good night text This will allow you to stay connected and start and end the day on a high. The feeling of waiting for the next text message is very beautiful and it allows the love to grow and prosper. Mostly, a long distance relationship ends because of excessive or no communication. It is better to stay in touch in regular intervals.

Spend Time Together Online:

A better way to stay in touch is by spending time together through social networking sites. You can go out for a walk together or go for lunch while staying connected through a video call. All this will allow you to know each other quite well and adjust your personalities according to the respective likings. You will also get to see each other through video calls more often.

Plan Visits to Each Other:

Making visits to each other is the best part in a long distance relationship. After a long wait, you can finally see each other, hold your hands, hug each other and tell face to face how much you love each other. The time spent this way is the best memory you make that stays with you for the rest of your lives. Try to spend quality time with each other and talk on topics of the same interest. Avoid unnecessary arguments and say good bye to each other at the end.

Respect Each Other's Schedule:


Being your partner does not mean that your partner does not have a schedule. You should know the schedule of your partner and try to adjust yourself accordingly so that when your partner gets some free time, you can talk. Respecting your partner's schedule will make your partner feel that you care a lot for your partner and do not want to exert undue pressure.

Do Not Sacrifice Your Own Life:


Being in a long distance relationship does not make you relieved of your duties and family matters. You should always try to spend time with your family and friends. Do not sacrifice your personal life and other priorities. Even if your relationship does not work out, you will be satisfied that you lived your life to the full.

Send Gifts Occasionally:

Gifts are a wonderful way to tell your partner how much you care for them. Gifts not only are a source of happiness and affection but also be with you at all times. You can feel the warmth of love with those gifts around. A gift can be anything. Be it a perfume, ring, locket, wrist watch etc., it will keep reminding your partner of your existence.

Keep a Track of Each Other:


Keeping a track of each other's activities is also a good way to keep the long distance relationship alive. You are not supposed to be a detective and peek into the personal life but you should know what your partner is up to. Liking and commenting on each other's pictures on Facebook, Instagram, and other social media platforms is a good way to know what your partner is doing.

Give Nick Names to Each Other:

Assigning nicknames to your long distance relationship partner is a cute thing. The partner feels loved and associates with the name. Nickname is a source of happiness so why not provide that to your partner. Each time you call your partner with that nickname can make your partner fell in love with you again every time.

Show Concern For Each Other:


Try to take care of each other. If one of you is ill or upset, try to calm down the situation with joke text Keep asking about the current condition. It will make your partner love you more. You can call your partner in such times and if possible, try to make a visit so that you cement your place as a loving and caring person.

Write Love Letters:

Love letters is now a thing of the past but it still has that magic that can win hearts. Try to write love letters to your partner often. Your partner can also save those as memories. Writing allows you to get extra time to express your feelings in a different way. Advanced ways of communication may be fast and instant but a love letter with loads of fragrance of love on it, is more than today's means of communication.

Get Involved in Each Other's Families:

If possible try to meet each other's, families. It will enable you to know each other more while meeting the families. You can know how the family background is and if you can adjust with the family or not. Also, the partner can know more about you from your family which is a good sign for your relationship.

Control Your Negative Emotions:

Do not let your emotions overcome you. In a long distance relationship, emotions can easily get over you and you may lose the sense to differentiate between good and bad. There may be times of loneliness, doubts, fears and uncertainty but you have to control the emotions to make your relation flourish in the future.

Don't be jealous:


In a long distance relationship, jealousy can be a big factor to counter. You can feel jealous of your partner's friends and as a result, your relation can suffer. Jealousy can lead to suspicion, anger, possessiveness and insecurity and that is why you should not feel jealous of your partner. You partner can get bored of you if you do.

Respect Your Partner's Perspective:


Differences of opinion is natural but you should respect that. This can create a sense of respect between you and your partner and there will be no chances of a breakup. Say your opinion and listen to your partner's opinion and it will work out fine for you.

Discuss Your Financial Matters:


Finance is a sensitive matter and if you do not adopt honesty in it, your relation will end sooner or later. Long distance relationship requires honesty and sincerity. Discussing your financial matters with your partner will not give them much hope about you traveling quite often to meet or send gifts much often which is a good thing.

Keep Your Partner in Mind:

You may not see your long distance partner quite often but that does not mean that you keep looking at other people. You should not keep your long distance partner as a second choice. If you want to make your relation work, keep your partner in mind and heart always. Remember the saying, "Love finds a way" and your love will find a way if you only have your partner in your mind.

Choose a Good Messaging App:

Try to use different messaging apps for communication purposes. You can text each other using cellular services but that is boring and you cannot express yourself openly. A good messaging app can allow you to send emoticons and images that can make your partner feel special.

Set Rules for Your Relationship:

You should define rules for your relationships and speaking truth should be the first entry. It does not mean that you form a constitution and follow it accordingly. Rules are always meant to be broken but make sure that you do not lie to each other.

Don't make your partner frustrated:

Long distance is enough to make your partner frustrated of the fact that you cannot meet each other very often. Try not to discuss anything that can get on the nerves of your partner and your partner decides not to talk to you anymore. Try to keep the conversation light with jokes and signs of care.

Watch The Moon and Stars Together:


The feeling that you live under the same stars and moon can be very pleasing for you and your partner. Try to watch the moon and starts at the same time to enhance this feeling and let the other one know that besides these long distances, you are still together under the same sky and breathe in the same air. You can also watch sunsets together to enjoy in a different romantic atmosphere.

Ask Tough Questions:


Asking tough questions can help you and your partner stay in touch for long. Curiosity kills the cat may be a phrase but in a long distance relationship, it serves as the agent that can make your partner talk to you more to know the correct answer to the question. You can also ask riddles to play naughty and teasing your partner.

Stay Positive:

Power of positivity is important in these sort of relationships. Try to keep positive energy in your long distance relationship to make it work out fine at the end. You may feel lonely at sometimes, you may want to meet your partner but you should know that at the end fruits will be sweeter. Always be thankful that you have someone to love and admire and let your partner know it. It will increase the amount of love between you two and both of you will end up together as a happily married couple.

Know each other's friends:

Who does not love friends? Everyone for sure! Try to know your partner's friends individually. Not only you will know about your partner's company but it will also make your partner feel that you care about his or her friends and social activities. You will also know when your partner is hanging out with friends and there will be no insecurities also.

Follow the Rule "Give and Take":


Give and Take respect is a global rule. Respect your partner even in your imaginations. Your partner will also love you more for this reason and you will not feel much loved again in your entire life. Love is not one sided. Love your partner to make them love you more. Try not to wait for a response from the other side.

Leave all your dirty habits:

You may not want your partner to change you but you might want to change yourself for your partner. Try to identify your bad habits and change them as soon as possible. This will make you a better person and your partner will get flattered on you for this reason. Simply ask yourself a question, would you prefer to spend life with a person with these habits? I'm sure you will get the answer NO!

Talk Dirty with Each Other Occasionally:

Sexual desire is like a power glue that can bond you together strongly. Try to talk about your sexual desires at times but not very often. You would not want your long distance relationship partner to sound like a sex toy. You should let the flames of love burning by sending each other teasing texts filled with sexual ambiguities.
These are 30 tips to make your long distance relationship work out for you. These can make you feel happy with your relationship and satisfied. Not only you will enjoy a lot better life but also get the partner of your dreams. A long distance relationship is perfectly elaborated in this quote by an anonymous writer, "Some people search for their entire lives for what we have and never find it. I won't give up. I'll fight for you." You have to fight with yourself and the circumstances to get the love of your life framed in your life. We hope these tips help you to make your long distance relationship work for you.
David Small
is the founder and editor of relationshiptips4u. He is a dating, marriage & relationship coach, speaker, and author. Learn more about him here and connect with him on Twitter, Facebook, and LinkedIn.
Master the skills to Build A Stronger Relationship